Retreats 2018 - 2019
October 5 - 7, 2018: Monastic Spirituality Retreat - Live like a Monk!
Facilitators: Monastic Community
Suggested Offering: $200
Can I live like a monk? Can I pray like a monk?
This weekend will look at and attempt to answer these questions in a way to assist you in your search for God in your daily living. Presentations will focus on the monastic practices of "Hospitality" and "Lectio Divina" (Praying with Scripture). You will also join the monks for the daily celebration of the Liturgy of the Hours and the Eucharist.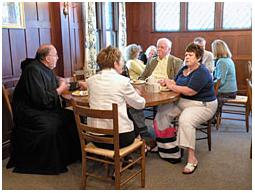 October 26 – 28, 2018: Spiritual Direction
Facilitators: Bro. Daniel Walters, OSB and Mayre Hammond, MAM and Certificate in Spiritual Direction
Suggested Offering: $200
Have you ever asked: What is spiritual direction; is it right for me; or how do I find a spiritual director? This silent weekend retreat will answer these questions, provide time to meet individually with a director and allow time for reflection. Are you sensing that God may be calling you to a new experience or direction in your life and you seek someone who will help you discern your response? Join us at the Abbey. More information will be provided upon inquiry or registration.
December 7 – 9, 2018: The Practice of Presence to Self
Facilitators: Martin Mullins, MS and Bro. Daniel Walters, OSB
Suggested Offering: $190
Presence points to a feeling awareness, corresponding to the Buddhist term of mindfulness. It is a heart knowing of the self in the now. Engagement with this practice in our daily lives will be presented as one path to lead us on the way toward fullness of being.
December 29, 2018 – January 1, 2019: New Year Retreat - Wait in Silence
Facilitators: Monastic Community
Suggested Offering: $225
Begin the New Year with silence, prayer, reading and reflection. This silent retreat offers an opportunity to look into our hearts and wonder at how God can "make all things new." Joining the Monks in prayer, one presentation, and the opportunity for celebrating the Sacrament of Reconciliation will help to focus the weekend.
March 8 – 10, 2019: Lent Retreat 2019
Facilitators: Monastic Community
Suggested Offering: $190
What does it mean to desire God? Come away from your routine and reflect upon what desiring God looks like in your life. Presentations, ample time for silence and solitude, as well as the availability for the Sacrament of Reconciliation, will provide the frame-work of the retreat.
April 18 – 21, 2019: The Sacred Triduum
Facilitators: Monastic Community
Suggested Offering: $220
Join the monks of Glastonbury Abbey in celebrating the Liturgy of the Hours and the Sacred Liturgy of the Easter Triduum. Two presentations on the spirituality of the Triduum, as well as an opportunity for the Sacrament of Reconciliation, will provide insight for reflection and a deeper immersion into the Lord's Passion, Death and Resurrection.
May 3 – 5, 2019: LISTEN with the Ear of Your Heart 2.0
Facilitator: Louise A. DeSantis Deutsch, MS, Obl. OSB
Suggested Offering: $200
Listening with the ear of the heart moves us to informed action based on deep and simple practices such as prayer, discernment, and intentional living, wherever our daily lives lead. Listening brings us ultimately to union with our ground of being, our calling to stand before the face of God. It is no accident that St. Benedict made "listen" the first word of the Prologue to his Rule. Come away and share discussion, prayer, and our stories. Come away and LISTEN with the ear of your heart.
Retreatants give high marks for this facilitator. Come experience a supportive and caring weekend with Louise.
May 17 – 19, 2019: Healing the Divided Heart
Facilitators: Martin Mullins, MS and Bro. Daniel Walters, OSB
Suggested Offering: $190
Each of us experiences the desire to love God and others along with a strong attachment to self-love. Through this attachment, we hold ourselves in captivity and are seduced into choices we frequently regret. This presentation will explore a path to healing this division, the divided heart.
June 7 – 9, 2019: Exploring Prayer
Facilitator: Rev. Deborah Roy, MDiv, STM, Obl. OSB
Suggested Offering: $200
"God speaks to us as God makes us," wrote Rainer Maria Rilke, and many of us have found that some ways of "speaking with God" seem to suit us better than others. If you are longing for a more intimate relationship with God, spend this weekend exploring ancient and contemporary forms of prayer across traditions including Centering Prayer, Zazen, The Liturgy of the Hours, and others. Whether you are new to prayer or seeking to deepen your current prayer practice, this retreat will offer you a chance to discover creative and meaningful ways of communing with God.
Feedback from this weekend experience has been extremely positive. If you are looking for an opportunity to deepen your prayer life with an informed, accepting and innovative facilitator, this is your retreat!