Retreats 2019
All are welcome to join us for a peaceful and spiritual retreat at our beautiful abbey. Advance registration is required. Please contact our retreat office 781-749-2155 ext. 300 or email retreats@glastonburyabbey.org
April 18–21, 2019: The Sacred Triduum
Facilitators: Monastic Community
Suggested Offering: $220
Join the monks of Glastonbury Abbey in celebrating the Liturgy of the Hours and the Sacred Liturgy of the Easter Triduum. Two presentations on the spirituality of the Triduum, as well as an opportunity for the Sacrament of Reconciliation, will provide insight for reflection and a deeper immersion into the Lord's Passion, Death and Resurrection.
May 3–5: LISTEN with the Ear of Your Heart 2.0
Facilitator: Louise A. DeSantis Deutsch, MS, Obl. OSB
Suggested Offering: $200
Listening with the ear of the heart moves us to informed action based on deep and simple practices such as prayer, discernment, and intentional living, wherever our daily lives lead. Listening brings us ultimately to union with our ground of being, our calling to stand before the face of God. It is no accident that St. Benedict made "listen" the first word of the Prologue to his Rule. Come away and share discussion, prayer, and our stories. Come away and LISTEN with the ear of your heart. Come experience a supportive and caring weekend with Louise.
May 17–19: Healing the Divided Heart
Facilitators: Martin Mullins, MS and Br. Daniel Walters, OSB
Suggested Offering: $190
Each of us experiences the desire to love God and others along with a strong attachment to self-love. Through this attachment, we hold ourselves in captivity and are seduced into choices we frequently regret. This presentation will explore a path to healing this division, the divided heart.
June 7–9: Exploring Prayer
Facilitator: Rev. Deborah Roy, MDiv, STM, Obl. OSB
Suggested Offering: $200
"God speaks to us as God makes us," wrote Rainer Maria Rilke, and many of us have found that some ways of "speaking with God" seem to suit us better than others. If you are longing for a more intimate relationship with God, spend this weekend exploring ancient and contemporary forms of prayer across traditions including Centering Prayer, Zazen, The Liturgy of the Hours, and others. Whether you are new to prayer or seeking to deepen your current prayer practice, this retreat will offer you a chance to discover creative and meaningful ways of communing with God. Feedback from this weekend experience has been extremely positive. If you are looking for an opportunity to deepen your prayer life with an informed, accepting and innovative facilitator, this is your retreat!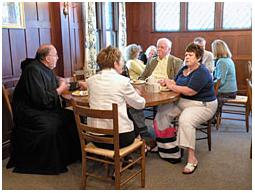 DIRECTED RETREATS
by The Sisters of St. Joseph
The Sisters of St. Joseph of Boston have planned five Directed Retreats to be offered with other trained directors and held at Glastonbury Abbey, 16 Hull Street, Hingham, MA.
We are very grateful to the monks at Glastonbury Abbey for their warm welcome and eagerness to collaborate in these directed retreats.
A Directed Retreat includes an individual, daily meeting with a director focusing on the retreatant's experience of God and help in discerning the interior movements of the Holy Spirit during the previous day's prayer and entirety. Within an atmosphere of total silence, there is time for personal prayer, exercise, rest, and liturgy.
June 24 - July 2, 2019 (8 days)
June 24 - June 28, 2019 (4 days)
Joan Duffy, CSJ, Lyn Ferrara,
Carol Fitzsimmons, CSJ, Nancijo Wolter
July 6 - 14, 2019 (8 days)
July 10 - 14, 2019 (4 days)
Nan Bouché, CSJA, Nancy Kehoe, RSCJ,
Joan McCarthy, CSJ, Paula Tinlin, SND
July 16 - 24, 2019 (8 days)
July 16 - 20, 2019 (4 days)
Carol Fitzsimmons, CSJ, Dorothea Masuret, CSJ,
Joan McCarthy, CSJ, Kathleen Short, CSJ
August 6 - 14, 2019 (8 days)
August 6 - 10, 2019 (4 days)
Chris Connolly, OP, Carol Fitzsimmons, CSJ,
Marybeth Harmon, Bea Ste. Marie, SSND
August 16 - 23, 2019 (7 days)
August 16-20, 2019 (4 days)
Joan Duffy, CSJ, Kathleen Hagerty, CSJ,
Patricia McDermott, IHM,
Nancy Sheridan, SASV
For more details & to receive an application, please e-mail spiritual.ministries@csjboston.org or call 781-227-4730