Morcone Conference Center
A Community Resource for Your Events
A Picturesque Venue for Weddings, Events, Meetings, and Socials
In the ancient tradition of Benedictine hospitality, Glastonbury Abbey's Morcone Conference Center offers a comfortable, light-filled venue for celebrations, meetings, and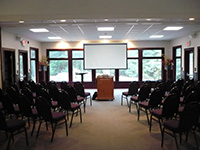 retreats. The tranquil beauty of its natural setting on the grounds of the historic Glastonbury Abbey in Hingham is a welcome respite from the city, yet it is only minutes away from Boston.
If you are looking for something different for your next special event, corporate meeting, party, banquet, reception, or retreat, the Morcone Center offers a unique alternative. The Abbey's Benedictine monks extend their hospitality to create a serene setting that accommodates your needs.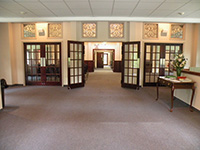 Set on more than 60 wooded acres in Hingham, the Morcone Center offers amenities away from the hustle and bustle of everyday life. The secluded, peaceful setting provides an environment where participants and coworkers can think and be creative. Whether looking for a place to communicate a simple message or somewhere unique to generate long range business planning, the Morcone Center is a place to foster great ideas.
We will work with you to create a setting that will meet your particular needs and help you achieve your goals. Competitive rates are an added benefit to the unique surroundings at Glastonbury Abbey.
We are available to host corporate functions such as:
Strategic Planning
Team Building
Organizational Development
Corporate Retreats
We are also available to host special events such as:
Birthday and Anniversary Celebrations
Fundraisers
Wedding Receptions
Family Reunions
"The natural beauty and serenity was a wonderful backdrop for our daughter's outdoor wedding and reception. We are still getting compliments! The Abbey was so helpful and accommodating. We couldn't have been more pleased."
Anita H., Quincy, Massachusetts
Contact Us
We look forward to the opportunity to work with you. Please feel free to call or email us with your questions or comments.
Office:
781-749-2155 x300
Denise Patts:
retreats@glastonburyabbey.org
Address: 20 Hull St, Hingham, MA 02043
Inquiry Form